CBD Sound Bath with Tatiana and Alexandria
presented by SweetTata's and NÜLOVE


Allow movement, sound and plant medicine to restore your body, mind and soul.
We will begin our evening with an educational and relaxing CBD journey with Tatiana. Learn the many benefits of CBD as we bring your awareness to the present moment and relax you into your breath.
We will then flow into yogic movements, getting out of our heads and fully into our bodies. Rest with a guided group meditation, connecting to the energy of the group and aligning with our intentions. And finally, receive a deep and restorative 432hz sound bath with the crystal singing bowls and the soothing vocals of Alexandria. The Sound Bath will be held on the Strawberry Full Moon on June 17th. Expect opening, releasing, high vibrations, and fulfillment.
While receiving the sound bath, remember to honor your body. If you need to change positions, please do so.

This session will be intimate - RSVP in advance to guarantee your spot.
This event is appropriate for all levels.
Things to remember:
- Dress comfortably.
- Feel free to bring your own blanket or cushion for extra comfort
- BYOYM – Bring Your Own Yoga Mat
- CBD will be provided.
Exchange:
$40 online or in person
--
This 90min workshop will help us connect as a community. Gathering together in community is more powerful than you know - together we are stronger, together we grow.
Pop Up Venue: https://www.yelp.com/biz/alanas-coffee-roasters-los-angeles-3
$40 donation online or at the door : TICKETS HERE RSVP on meetup.com/sweettatas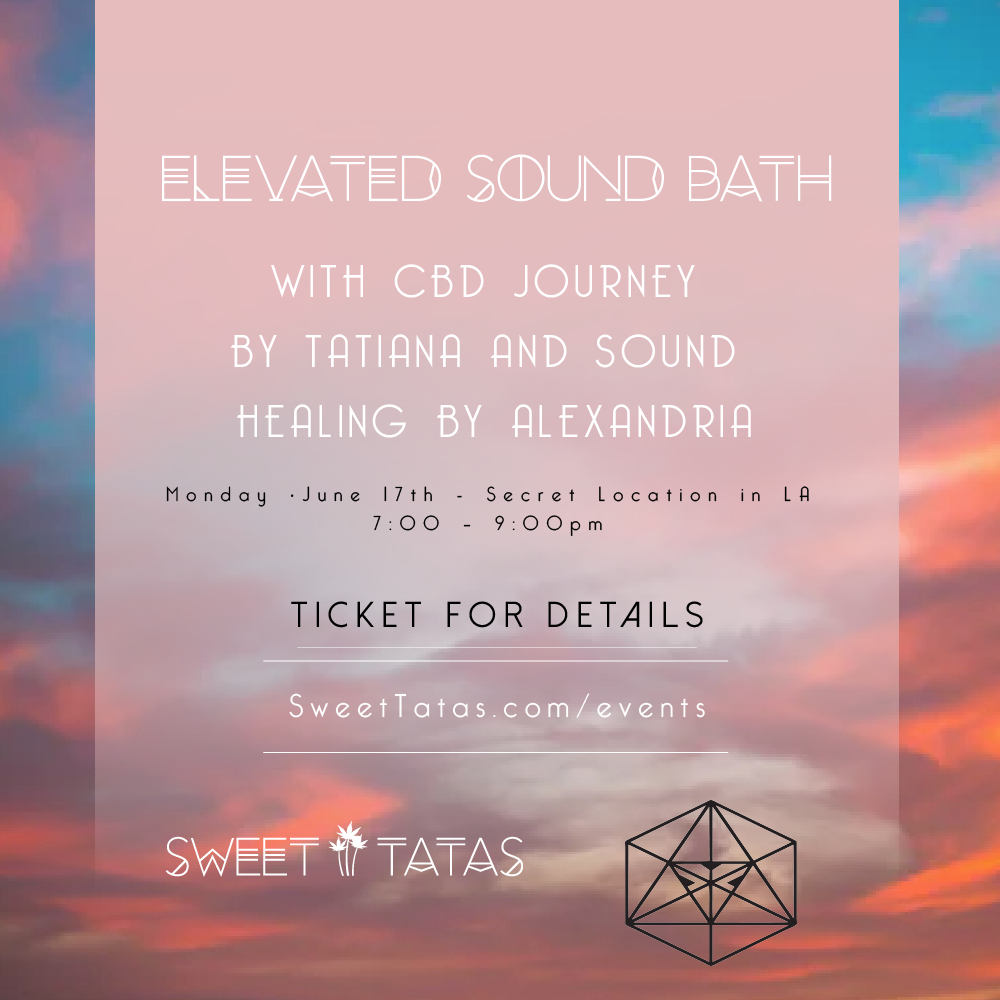 Brought to you by:
NÜLOVE (@nulovecommunity) x SweetTatas (@sweettatas)
* Learn more about your hosts *
Alexandria Luciana is an accomplished yoga teacher, sound healer and reiki master. Based in Toronto, she has had the pleasure of teaching thousands of people and children across the GTA and Los Angeles!
She has been passionate about cultivating awareness and connecting people to their bodies since her yoga journey began 13 years ago. Since completing her 200 YTT and beginning to perform with the crystal singing bowls in 2015, she has proceeded to teach and perform non-stop. She has taught large classes at places like Camp Reset and Yoga to Conquer Cancer and works with brands like LOLE, B Yoga, 889 Yoga, Knixwear, Lululemon and more.
Along with Yoga and Sound healing, T.O.A. is an accomplished musician, creating the NULOVE, Awaken and Zen Dogs Wellness brands; three endeavors that marry the power of yoga, wellness and music.
www.theonlyalexandria.com
@theonlyalexandria
SweetTata's BIO
Tatiana [SweetTatas] is not only a Certified Yoga Teacher (RYT200), who has also completed the Ganja Yoga Teacher Training in Los Angeles (50hrs) and is Reiki attuned, she's a true bubble of energy and thrives as an event producer, marketing executive, brand spokesperson, heart-centered healer and comedienne. In her recovery from a life changing accident, Tatiana has overcome severe injuries, pain and high anxiety and has learned to use CBD (and THC), combined with yoga, meditation, and other lifestyle choices, to heal and transform her life.
Through the exploration of plant medicine and a holistic lifestyle, experimenting with new cannabis brands and learning about the latest in the hemp and cannabis worlds, Tatiana has become a staple in the cannabis and wellness community. Her magic lies in her innate ability to connect with people. Highly adaptable and attentive, she's known to be a positive guide, helping people safely and comfortably journey through mind-altering and -effecting experiences. Intuitive, empathetic, and extremely caring, Tatiana has committed her Self to healing, while helping others find balance and comfort in their life through the use of CBD, cannabis products, as well as yoga, stretching, and breathing practices."
Tatiana is a proud yoga, health, cannabis and hemp advocate, dedicated to helping people make informed and better decisions when it comes to self-care, pain management, natural medicine and homeopathic remedies. She hosts group and private cannabis-enhanced yoga sessions and gives 1-on-1 or group educational circles, private, and group "seshes." Events being her passion, Tatiana has helps to organize and produce events with and for brands execute, from small scale to expo and festival style events. Tatiana continues on her path to create unique, community-based events that range from pop up dinners and brunches to yoga workshops and cannabis circles. For more information, please reach out.
@sweettatas